City hosts grand opening for new Cookingham leaf and brush drop-off center
The City of Kansas City, Mo., will celebrate the grand opening of its new Cookingham leaf and brush drop-off center on Friday, March 15 at 2:30 p.m. The new drop-off center is located at 11660 N. Main St., at the northeast corner of Northeast Cookingham Drive and North Main Street (Approximately US-169 & I-435). The facility will open to the public on Saturday, March 23 at 8 a.m.
The City is opening a new leaf and brush drop-off center due to the federal and state quarantine placed on Clay and Platte counties because of the Emerald Ash Borer, a pest destructive to ash trees. As a result of the quarantine, residents of Clay and Platte counties cannot use the City's existing Chouteau and Raytown leaf and brush drop-off centers.
The new Cookingham facility is designed to handle regular leaf and brush and large quantities of debris generated during emergency situations, such as the recent heavy snows. In addition, the facility will be certified to handle trees that may be affected by the Emerald Ash Borer.
The drop-off site will be open and free for residents to use on Saturdays from 8 a.m. to 5 p.m.
The drop-off site rules are as follows:
Proof of residency using a valid driver's license or state-issued ID is required.

Drop-offs from commercial enterprises will not be accepted.

Only leaves, yard waste and brush (including tree trimmings) are accepted. Grass clippings are not accepted.

You may bring leaves in paper yard-waste bags. If you seal your bags, use masking tape only. Do not use wire, duct tape or other plastic tape. If you bring plastic bags, please empty them and take them back with you.
In addition to dropping off leaves and brush, residents may also pick up mulch. Residents may pick up first ground mulch for free at all of the sites, or they may purchase natural darkwood, red and brown mulch and natural compost from the Chouteau and Cookingham sites for a discounted fee.
Residents needing to dispose of leaves and brush may also utilize the City's curbside Leaf and Brush Collection Program. The spring collection will take place beginning April 1.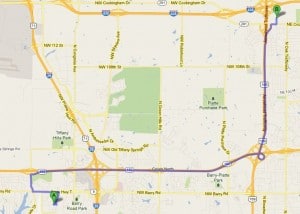 http://www.kcmo.org/CKCMO/NewsArchives/031213A